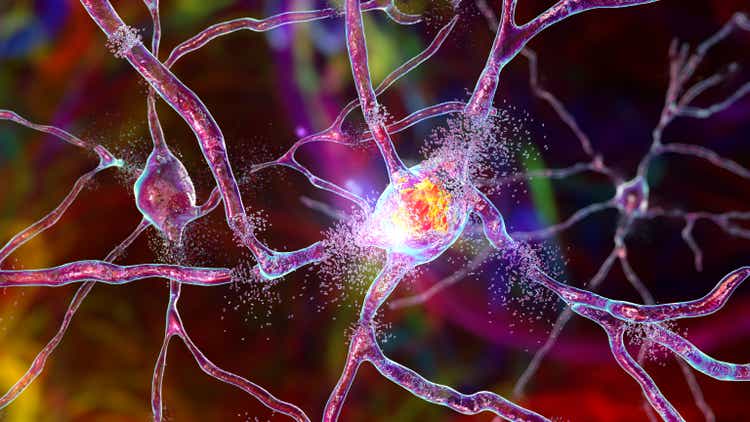 Amylyx (NASDAQ:AMLX) stock has rallied recently since Health Canada issued a provisional approval for its drug AMX0035 in treating Amyotrophic lateral sclerosis, ALS (as monotherapy or adjunct therapy to other approved drugs). However, the stock could have another 40-50% upside in the coming weeks.
A brief overview of Amyotrophic lateral sclerosis
Amyotrophic lateral sclerosis, ALS, (also known as Lou Gehrig's disease) is a progressive, neurodegenerative disorder that causes muscle weakness, disability, and eventually death. The clinical hallmark of ALS is a combination of upper and lower motor neuron symptoms and signs.
Riluzole is the first FDA-approved disease-modifying therapy for ALS. At a median follow-up of 18 months, there was a 35% reduction in the death rate compared to placebo. Riluzole has no effect on functional deterioration in ALS. Mitsubishi Tanabe's Edaravone is a free radical scavenger and slowed the functional deterioration in ALS as well as reduced the risk of death by 27%. An oral formulation of Edaravone was recently launched.
Amylyx's AMX0035 has shown a higher survival benefit in ALS
AMX0035 is an oral formulation of sodium phenylbutyrate and taurursodiol. It reduces neuronal death by simultaneously mitigating endoplasmic reticulum stress and mitochondrial dysfunction.
The Phase 2 CENTAUR trial for AMX0035 showed a significant reduction in the rate of functional decline (measured by the ALS functional rating scale, ALSFRS) compared to the placebo. The trial also showed that patients on the drug lived a median of 10.5 months longer than the placebo. The drug resulted in a 44% lower risk of death than the placebo, which is higher than that shown by Edaravone (27%).
Earlier this year, the company's stock fell from $28 to $10 after a negative AdCom vote (6/4). Health Canada approved the drug for marketing on June 13. The Canadian approval for AMX0035 (despite a negative AdCom) seems to be influenced by the drug's effect on improving patient survival.
Notably, 77% of patients in the CENTAUR trial were taking Riluzole (the first approved drug in ALS), Edaravone, or both, still AMX0035 treated patients showed a slowing of functional decline and improved survival. The FDA PDUFA is scheduled for September 29. The E.U. Medicines Agency has also accepted the approval application and a decision is pending. However, the Canadian approval has significantly increased the probability of U.S. approval despite the negative AdCom. ALS is a debilitating disease (median survival of 20 to 48 months) and in the absence of effective treatments, patients and their families will resort to ordering AMX0035 from Canada (FDA permits this import if an effective treatment is not available in the U.S.).
The stock could have another 50% upside in the near-term
The global market for ALS therapies is expected to reach $1 billion by 2029. Edaravone is the highest-selling global drug with an expected $300M global sales in 2024. The current enterprise value of Amylyx is $920M (which also includes the risk-adjusted NPV for AMX0035 in other indications like Alzheimer's disease and Wolfram's syndrome). The mean Wall Street analyst price target on the stock is $27 (50% upside), which is reachable if the drug is approved in September (the stock was trading at $28 before the negative AdCom). After the Canadian approval, HC Wainwright issued a $35 price target while Citi issued a $33 price target.
Overall, I am bullish on the upcoming PDUFA for AMX0035 in September and entered a long position for this opportunity for a 40-50% gain in a few weeks.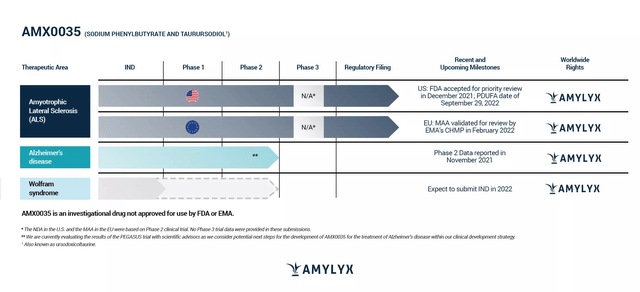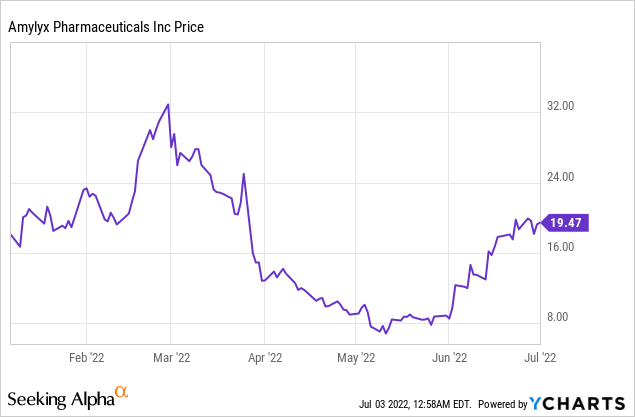 Risks
Risks in the investment include a CRL which could cause the stock to fall to $10 or lower. This is a high-reward, high-risk opportunity and may not be suitable for all investors.
link