At Unity Health, people are our number one success factor. We know that investments in education and professional development are key to supporting our Vision of The best care experiences. Created together.
It is our duty to be forward thinking so that our staff are well prepared to face new challenges and ever-changing environments. All of our full- and part-time employees have access to education funds to support lifelong learning and career development. We distribute our funds through a centralized process that ensures transparency and equitable access for all staff. In addition, a robust education infrastructure supports in-house learning and skills building at every level of the organization. Our commitment to digital transformation means that we are investing in e-learning and virtual education, making education accessible to our staff anytime, anywhere.
Our programs support more than 5,700 staff learners and more than 4,000 students and trainees every year.
Highlights include:
$1 million+ in funding for staff education and development per year
Robust faculty and leadership development supports
Three academic libraries

Equitable and collaborative learning opportunities
A state-of-the-art Simulation Program
Affiliated with the University of Toronto and 23 academic institutions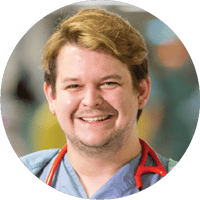 "Everything around you is nourishing your growth and development. The culture of St. Michaels and Unity Health, it's really, really proud to say: 'We are a teaching organization, we support and actually cause growth in people.'"
– Conor Goulden, Registered Nurse, Cardiac/Vascular Unit, St. Michael's Hospital
Funding Supports


The Centralized Education Fund (CEF) gives our people opportunities to update their knowledge and reach their full potential within their current role. It provides financial assistance to support employees' professional development through participation in learning events, such as courses, workshops, webinars and conferences. When appropriate, financial support is also provided to support travel and accommodation expenses.
All full-time and part-time permanent employees at Unity Health are eligible for the program.


The Tuition Assistance Program (TAP) gives our people opportunities to grow in their career and follow new pathways to development. It provides reimbursement for part-time studies at recognized universities, community colleges and other post-secondary educational institutions. Permanent, full-time employees are eligible for $2,500 in funding per year and permanent part-time employees are eligible for $2,000 in funding per year. A total of $300,000 is awarded to staff each year on a first-come, first-served basis, in accordance with approval criteria.


Our grants and scholarships provide additional support to staff who are interested in pursuing certification or learning new skills. They also recognize and reward the excellence of our staff. Grants and scholarships are made available by generous donations and have specific criteria. We encourage you to ask questions and seek clarification about our grants and scholarships during your hiring process.
Learning Supports


We design and deliver a wide range of continuing education and professional development programs aimed at advancing the knowledge, skills and careers of our staff.
Education programs are accessible to all staff and physicians, regardless of discipline or role.


Unity Health believes that every person has a unique contribution to make to our organization. We are committed to collaborative learning that brings together knowledge, skills and ideas across programs, disciplines and roles.
Our Collaborative Learning Program offers customized activities that enhance team functioning and promote high performing teams. It also provides training for those wishing to facilitate collaborative learning activities.


The Centre for Faculty Development (CFD) is a partnership between Unity Health and the University of Toronto Temerty Faculty of Medicine that supports health professionals in their multiple education roles and activities, including teaching, academic leadership, scholarship and advocacy.
The Centre offers longitudinal programs, individual workshops, curated lists of resources and faculty development consultations with local, national and international partners, including programs in anti-oppressive health care, enhanced teaching performance, coaching and mentorship.
For more information visit centreforfacdev.ca.


The Leadership Development Certificate is a series of interactive courses designed to empower professional growth and enable positive change. It is available to all staff and leaders at Unity Health.
Courses are diverse and include such topics as leading through change, quality improvement, understanding yourself and others, culturally intelligent and inclusive communication, engaging in productive conflict, emotional intelligence, and building resilience in times of uncertainty.


Unity Health's state-of-the-art Simulation Program allows students, health disciplines, nursing professionals, researchers, administrators and physicians to practice skills in a safe, realistic learning environment using high fidelity human patient simulators, virtual reality and task trainers. Courses include resuscitation programming across all of our sites as well as a range of programming in partnership with experts in anesthesiology, nursing, respirology, obstetrics and gynecology, surgery and trauma management, to name a few.
Our program is accredited by The Royal College of Physicians and Surgeons of Canada. This national accreditation recognizes leaders in simulation based learning and educational research. For more information visit www.simulationprogram.ca.


Our libraries support education, research and evidence-based decision-making for all physicians, staff and learners at Unity Health. All staff and positions – no matter the department or program – have unlimited access to resources (e.g., databases, e-journals, e-books, software, clinical decision support tools), borrowing privileges, interlibrary loans, library workshops and custom training opportunities, and library spaces for independent study and equipment use.
Our information specialists are available to support learning, research and information needs that support evidence-informed practice through library guides, literature searches and one-on-one consultations.


We are committed to revolutionizing care through digital transformation. The Digital Education program at Unity Health supports e-learning and virtual education to ensure our staff can access education when and how they prefer.  Our experts in educational technology and adult learning provide consultation for digital instructional design, support the development of interactive e-learning modules, and help design and implement virtual learning experiences for local and international audiences, amongst other services.
We encourage you to ask questions and seek clarification about our programs during your hiring process. For more information about education and development at Unity Health, visit the Education area of our website or read our Education Strategy. For information about our Total Rewards package, visit our Compensation, Benefits & Pension page. For information about additional health and wellness supports, leaves of absence and flexible work arrangements, visit our Quality of Work-Life: Programs for Safety, Wellness & Work-Life Balance page.
Last updated November 21, 2022
link