Muhlenberg and Warren County Community College Sign Program-to-Program Transfer Agreement
The new partnership provides a pathway for Warren County Community College graduates of selected associate degree programs into Muhlenberg's accelerated bachelor's degree programs.

By:



Shane Baglini



 Wednesday, March 15, 2023 02:48 PM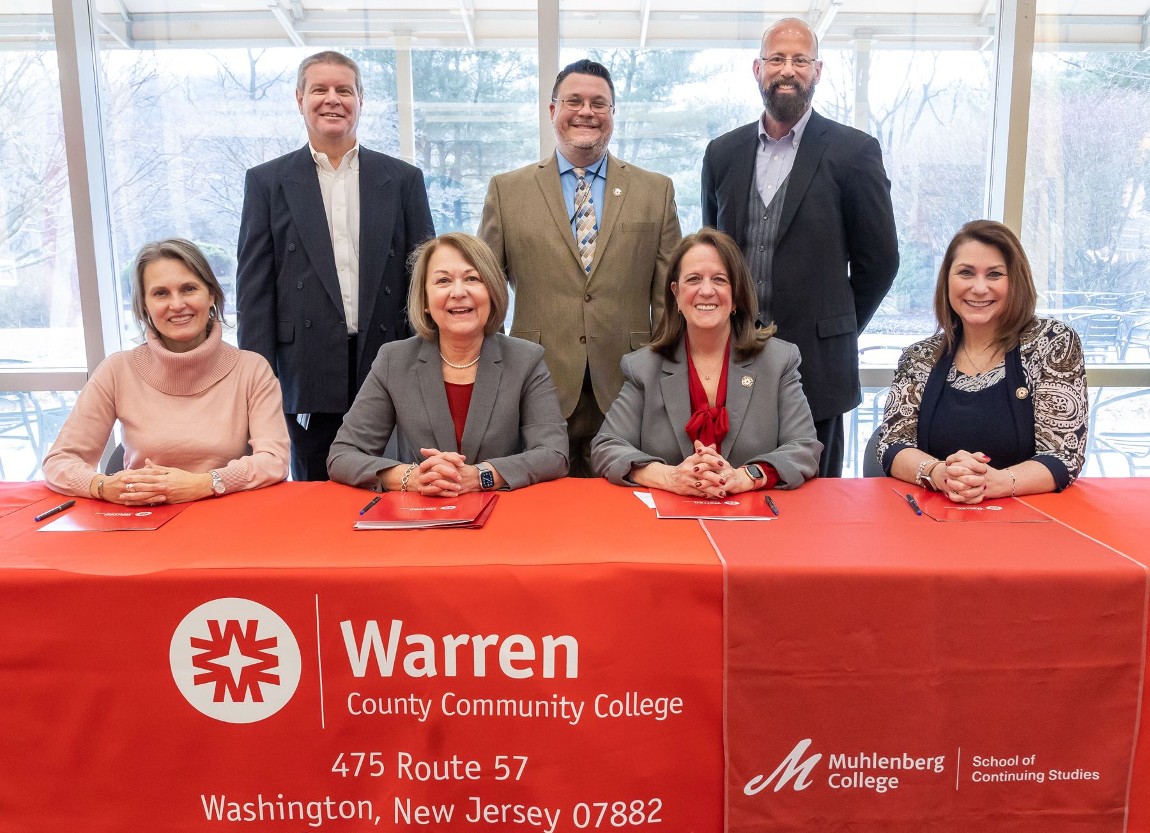 Left to right, front row: Muhlenberg Provost Laura Furge, Muhlenberg President Kathleen Harring, Warren Acting President Marianne Van Deursen and Chair of the WCCC Board of Trustees Yvonne Reitemeyer. Back row: Muhlenberg Dean of Continuing Studies Michael Miller, WCCC Vice President of Student Services Jeremy Beele and Muhlenberg Vice President and Executive Director of Graduate & Continuing Education AJ Lemheney Photo credit: Warren County Community College

On Friday, March 10, Muhlenberg College and Warren County Community College (WCCC) announced a new transfer agreement to the Muhlenberg College School of Continuing Studies accelerated degree program for qualified WCCC students graduating from specified programs with an associate in arts, associate in science or associate in applied science degree.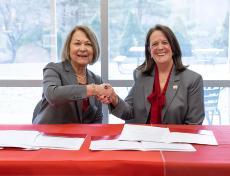 "Our partnership is exciting  — and it's exciting for a host of reasons," said Muhlenberg President Kathleen Harring at the signing event, pictured here with Warren President Marianne Van Deursen. "Together we're going to offer more opportunities to talented students in our region. Our agreement will allow them to leverage the excellent foundation of a Warren County Community College education and apply it to a transformative experience at Muhlenberg. It's going to enrich their minds and empower them — intellectually, academically, and professionally. It's going to prepare them to pursue lives of meaning and consequence."
Students admitted under the agreement may earn a bachelor's degree in business administration (including concentrations in business analytics, healthcare management, project management, human resources leadership and supply chain management) or information systems management. 
Muhlenberg offers a fast-paced, cohort-based model that allows students in the School of Continuing Studies to graduate in less than two years. This hybrid and accelerated program provides a mixture of synchronous online and face-to-face learning sessions held in the evenings.
The flexible program will make it easier for adult students to balance home, work and family, noted Warren President Van Deursen. "This transfer articulation is particularly helpful for the A.A.S. degree student who typically enters the workforce immediately upon graduation. We believe that this is a wonderful option for our graduates in so many of our discipline majors."
The agreement with WCCC builds upon the number of admissions pathways for adult students to a Muhlenberg education. In total, Muhlenberg's School of Continuing studies now has program-to-program transfer agreements with seven regional community colleges, including WCCC. 
Muhlenberg, which is celebrating its 175th anniversary this year, has offered programs for non-traditional students since 1909.
"We are excited to welcome Warren students to our community where they will offer important perspectives and strengthen our vibrant campus," added Harring.
Learn more at https://www.muhlenberg.edu/continuingstudies/transfer.html and get in touch at 484-664-3300 or [email protected]. 
About Muhlenberg College School of Continuing Studies
The Muhlenberg College School of Continuing Studies has specialized in adult and continuing education for over 100 years, offering over 25 programs, including Accelerated and Traditional Bachelor's Degrees, Teacher Certification and a Certificate in Project Management. Our programs are built for the unique needs of the adult learner and provide flexible scheduling options because we believe education should not get in the way of your life.
About Muhlenberg College
Founded in 1848, Muhlenberg is a highly selective, private, four-year residential, liberal arts college offering baccalaureate and graduate programs. With an enrollment of approximately 2,200 students, Muhlenberg College is dedicated to shaping creative, compassionate, collaborative leaders through rigorous academic programs in the arts, humanities, natural sciences and social sciences; selected preprofessional programs, including accounting, business, education and public health; and progressive workforce-focused post-baccalaureate certificates and master's degrees. Located in Allentown, Pennsylvania, approximately 90 miles west of New York City, Muhlenberg is a member of the Centennial Conference, competing in 22 varsity sports. Muhlenberg is affiliated with the Evangelical Lutheran Church in America.
link