Despite ongoing inflation, the U.S. economy has experienced many bright spots in 2022. That includes the construction industry, which has seen record-low single-family vacancy rates this year and a burgeoning crop of planned commercial projects for 2023. Avoiding a recession in 2023, however, will require taking a narrow road, one economist said this week.
Dodge Data & Analytics Chief Economist Richard Branch delivered the company's "On the Razor's Edge: Will the U.S. Economy Enter Recession and How Will Construction Starts Respond in 2023" via an online webinar on Nov. 15. The analysis was based on several data categories the company tracks throughout the year. Some of that outlook was based on historical data through the end of September.
Looking at the big picture – or skimming through any news site – it's clear there is a lot going on in the world. From election results, to bitcoin, to tech layoffs, it can be a challenge to predict what will happen next with the U.S. economy.
Not Like the Others
Former Boston Federal Reserve President Eric Rosengren told CNBC last week that the U.S. is likely headed for a mild recession going into 2023. Branch told his online audience on Tuesday that a recession may not happen, and if it does, it will not be as severe as the Great Recession of 2008 or the downturn of 2001.
"The key thing here to remember I think, in that downside recession is we view this as fairly V-shaped here. We don't view this as anything similar to what happened during the Great Recession or any cyclical periods in the past," Branch said. "A couple of key reasons I would say that we feel this way is No. 1, the banking system is in great shape. And No. 2, the housing market is woefully undersupplied."
There are a handful of issues that Branch is watching and considers potential recessionary events:
Increased China and Taiwan tensions or conflict
A real further violent escalation in Ukraine and Russia
Production cuts for OPEC plus that push oil prices to $115-$120 a barrel
Rail strike
"We're walking the razor's edge here," Branch said. "In our estimation, there is a very, very, very narrow path to avoiding a technical recession in 2023."
Inflation Determining the Path of the Economy
Inflation is calling the shots when it comes to the risk of recession, Branch said. The Consumer Price Inflation and Producer Price Index have shown slight improvements so far during the past month, which may point to improving economic conditions, Branch said.
"Now, of course, one month do not a trend make," he said. "But I think there's certainly some good news here on the horizon."
He expects the Federal Reserve to raise rates another 50 basis points in December and 25 more in January. The Federal Reserve doesn't meet in February, so the next chance to raise rates will be in March, when he expects them to increase rates another 25 points.
"By that point, I think as long as we continue to see improvements in core inflation, they'll raise one more time in March, and that's it. Full stop," Branch said. "Again, that's assuming we continue to see improvements in core inflation. So by the time we're in March next year, the federal funds rate will be in the range of 4.25% to 4.75%. Now, of course there's a lag impact from rising interest rates to the economy."
If the Federal Reserve needs to continue raising rates, then the outlook for the remainder of 2023 sours.
"Q1 would go deeper negative, Q2 would flip over into negative, Q3 would come pretty close to the zero line but stay positive and Q4 would come down, as well," he said.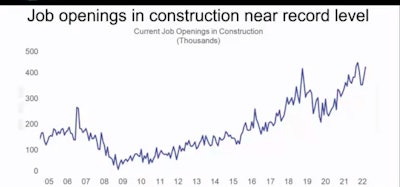 Labor Shortage Will Likely Ease Recession
One of the factors that will help the U.S. avoid a severe recession is the ongoing labor shortage, Branch said. The U.S. economy overall needs about 4 million workers, says the U.S. Chamber of Commerce and the construction industry is short roughly 440,000 workers, according to McKinsey. These openings persist despite recent tech industry layoffs, including Facebook parent company Meta's cut of 11,000 workers and Twitter's 7,500.
"We all know how critically short of labor we are, not just in the construction industry, but in the economy as a whole. What I think happens here is that firms will be so afraid or concerned that if they let go of too many workers, they won't get them back when the economy starts to recover," he said. "Because of that, I don't think job cuts and job losses here in the first half of next year, are going to be substantial enough to really push the economy that far south."
He acknowledged that there will likely be some job losses.
"There will be job cuts, for sure the unemployment rate will go up, for sure," Branch said. "But we think in the first six months of next year, that job creation is essentially zero. So compare that say to (the recessionary periods of) 2007/2008; compare it to 2000/2001. We think this will be pretty mild by comparison. And it's that stability in the labor market in the first half of the year that allows the economy to flip back into positive territory in the second quarter, therefore avoiding, you know, a textbook technical recession of two consecutive quarters of negative GDP."
If inflation does not improve in Q2, the Federal Reserve will continue to raise rates, he said.
"The Fed will keep going here to fight inflation and to get it down, even if they have to break the back of the U.S. economy," Branch said.
In the construction industry, a lack of workers will limit how many projects owners and developers can take on.
We're going to be right back in the same situation of skilled labor shortages, if we forecast out over five years," he said. "As I look at that five-year horizon, I don't see a real significant improvement here in attracting skilled labor into to the industry; I think it's moving forward, we're making progress. But I think over the next five years, what this is going to do is continue to put a ceiling on the amount of work we can get done in the industry, of course barring technological changes and barring productivity enhancements."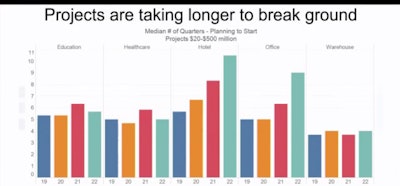 Planned Construction Starts at 15-Year High
Another bright spot in the economy is the number of planned construction projects for 2023. Despite fears of a recession, developers and contractors are moving ahead with projects, Branch said. The Dodge Momentum Index tracks non-residential construction projects from their earliest stages to groundbreaking.
"If you go back to the early days of the pandemic, and 2021, (the index) hit bottom," Branch said. "Ever since then, it's been rising pretty steadily. It's been volatile here and there, but it has been trending upwards noticeably. Whether you're looking at the commercial components, your income property types, like the offices and hotels, warehouses, whatnot, or whether you're looking at institutional buildings, your education and healthcare, we're sitting here near 14-15 year highs in the Momentum Index."
Branch said before the Great Recession, developers continued to plan projects, but this time feels different.
"If we go back in time, and we look at 2007-2008, developers and owners did the very same thing right up until the technical recession started. And we noticed then that planning and developing really slowed slow down. I think it's different this time around," he said. "I think because this is not such a clear case of how a slowdown will impact that the market, that it's not 100% certain that we'll go into recession in 2023, I think this is going to mean developers are going to keep putting projects into the queue here. I expect this will soften a bit over the next few months. But I don't think we'll see the same kind of precipitous declines here that we saw back during the Great Recession."
Pricing indexes for materials are slowly improving, after peaking in late 2021, early 2022, Branch said.
"I think pricing is going to remain challenging as we go into especially the first half of 2023," he said. "But I think we'll start to see some improvements here in the back half."
As demand continues for some types of construction projects throughout 2023, there will be sustained pressure on pricing, he added.
Residential Outlook
Branch said it's important to take a look at the outlook of the residential market, even if owners and developers are only focused on commercial and industrial. Residential building leads to commercial construction, he said.
"There's a strong linkage here. I've always viewed the construction cycle here as a train. Residential is the engine of that train. Single family really is the engine of that train. Single family leads the construction sector into decline, and it leads it in recovery," he said. "If you want to understand organic growth in most of the non-residential building sectors, and even into infrastructure, you need to understand the comings and goings of the residential market."
Branch said he expects increased pricing to impact the residential market in 2023.
"The labor market is very solid; income growth is okay. The Millennial age bracket is in the prime home buying years, but that lack of supply has pushed home prices higher and with higher mortgage rates, that has pushed housing affordability to the worst it's been in almost 15 years."
After March, Branch expects mortgage rates to stabilize, although supply will remain limited, keeping prices high.
"This is still a pretty robust market, it's just a lot weaker than we saw in 2021," he said. "Assuming the world follows our script, the bottom of that trough of the single-family market is probably in late Q1, early Q2. We'll see mortgage rates stabilize, we think that allows the housing market to stabilize in Q2, and then there will be fairly small improvements as we get through the end of the year. We're still looking at another 6% decline in the housing market, but we do think that by the time we're at that this point next year that we'll start to see some improvements in the construction side."
Multi-family Market
Demand for apartments, condos and townhomes is high, in part because single-family homes have become more expensive and less available, Branch said. That's led to the best year for multi-family construction since 1986, at 16% with 796,000 units.
"Vacancy rates around the country are near record lows; it's really, really tight," Branch said. "What happens here as the economy starts to slow down, household growth slows down, we see particularly younger generations cohabitating more."
Because of increased cohabitation and economic pressures, he expects a 2023 multi-family decline of 9% or 723,000 units
"Even though we're declining here and single them in multifamily 2023 from a level perspective, is still a pretty robust market," he said.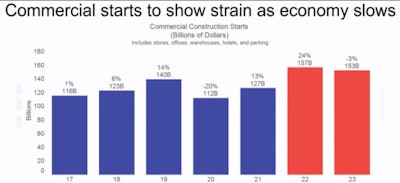 Non-Residential Building Outlook
Construction projects in the institutional, education and healthcare markets are returning to a pre-pandemic pace, Branch said. But commercial, office and hotel are flat, as remote work has reduced the demand for office space overall, he added.
"We know the hotel sector is recovering, but office continues to be weak. So there could be a demand element here saying we're going to slow down these projects going through planning until we're sure that market conditions are ripe enough for us to break ground," he said.
With infrastructure projects, such as water and sewer, project planning cycles are improving. Roads and bridges projects remain flat, likely because of slowed funding on the federal level for the Infrastructure Investment and Jobs Act, which will provide $350 billion for highway programs for five years.
"We also need to consider here the fact that the appropriation process in Washington has slowed down," he said. "There was a delay in getting the fiscal year 2022 funding approved; there already is a delay getting the fiscal year 2023 funding approved for infrastructure projects. So that could be influencing as to the projects getting into the queue on time. But they're slowing down maybe before the bid cycle just because that funding hasn't been appropriated and flowed from the federal government down to the state and local communities."
Additionally, quite a few bond measures for new construction projects were approved across the country on election day, which will further activity in the sector.
"There is a resounding positive that has come from the election in terms of local bond measures supporting construction activity," Branch said. "There are a lot of bond measures here across a broad range of project types, from education to roads and bridges, to clean energy to water and sewer. This will certainly support the public side of the construction sector as we move forward into 2023."
Retail Market
Hand-in-hand with a strong single-family market is a robust retail market, Branch said.
"There's a strong relationship here, between single family and retail, it's about a year lag between groundbreaking of single family to groundbreaking of retail," he said. "As we move into 2023, if we think back to what's happening in the residential sector in 2022, single family declining multi-family and will be declining next year. That's going to slow retail construction starts down here, again, 4% in nominal dollar terms, if you converted this to constant dollars to take inflation out, you'd be looking at a load of bad single digit decline here in single family, nothing like what we saw back during the Great Recession."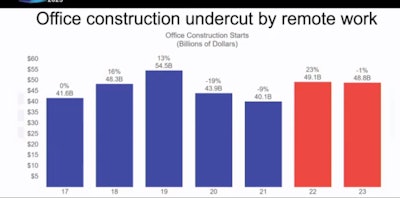 Data Centers a Win for Office Sector, Warehouses Not So Much
The largest commercial projects in 2022 have been data centers.
A year ago, the largest commercial projects included several Amazon warehouses. Now, only one or two Amazon warehouses make that list.
"We've certainly started to see a shift in that market," Branch said. "As we move forward into the warehousing sector, I think is where we start to see the more significant declines in commercial."
According to the outlook report, 2022 is the peak year for warehouse construction.
"We've been seeing this now for the better part of the year, as we've been watching those projects come into planning essentially flatten out, particularly Amazon contracts," he said. "Now Amazon bought onto our theory this year, when they said 'Yeah, we overfilled the market, sorry about that. We're calling it and pulling out of the market.' That is going to drive activity lower here."
With Amazon making up 16% of warehouse construction, it will leave a mark when the e-commerce giant stops building distribution centers.
"When you see that size and market share step out, activity will come down. Now why do we know this? Because we've seen it before," Branch said. "Strangely enough, Walmart is 16% of the retail sector. When Walmart stopped building supercenters back about a decade ago, the whole retail sector took a pretty hard step down. Now, we don't think the same is going to happen here because there's not the same retail dynamics. There will still be demand for warehouses over the next several years, particularly the high-end, refrigerated warehouse buildings."
Demand for office space remains uncertain, he said. Based on data from Kastle Systems, which manages key access systems for office buildings, occupancy has been flat in recent months. Occupancy is at about 47% in the top 10 markets in the country.
"Vacancy rates are heading up; they're about 30 basis points higher than they were in the third quarter of last year," Branch said. "The outlook here really depends on what we believe for return to office."
With labor as tight as it is, Branch said he believes workers will have the power to remain remote if they choose.
"I don't think there's a lot of support for strong buildouts over the next couple of years," he said.
Renovation work made up 30%-35% of office construction in 2021 and 46% in 2022. New office construction in 2023 will be "pretty bleak," he said.
Hotels Market
Post-pandemic "revenge" travel has fueled an uptick in hotel construction.  
"Depending on what side of the fence you're on here, if you're looking to book a hotel room, that might not be such good news, but if you're concerned about financials for hotels, that's great news, and we're seeing those financials have certainly improved," Branch said. "That has certainly led some more hotel construction this year."
He expects mild gains for the hotel construction market in 2023, with activity focusing on upscale and luxury properties.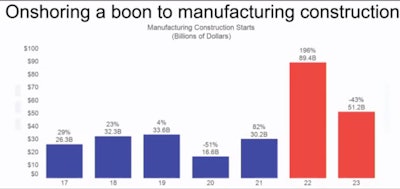 Manufacturing for the Win
As U.S. companies begin to reshore their overseas manufacturing, construction will hit another bright spot in 2023.
"One of the big projects that we've been seeing come back, of course, are chip fabrication plants. In addition to that, we're seeing EV battery plants, EV plants, we're seeing food manufacturing plants return. We're seeing steel mills, lumber mills; really, when we think about it, here, it's the greatest hits of the supply chain," Branch said.
The prediction is for $89 billion in manufacturing construction for 2022 and $51 billion in 2023.
Even though the 2022 rate is higher than the expectation for 2023, the 2023 estimate remains historically strong.
"In fact, if not for 2022, that $51 billion would be a record level of construction in terms of nominal dollars, or even its square footage, which is pretty much as real as you get. You need to go back to the early 1990s to see the kind of square footage we expect will break ground in 2023," he said.
Institutional Construction
Manufacturing, as well as institutional construction, will help lend stability and insurance to the construction industry in 2023, Branch said.
More than half of institutional construction will come from education, mostly in terms of new laboratory space. Generally, though, K-12 and college construction will remain flat next year.
With healthcare construction, Branch said he expects a slight uptick in walk-in clinics in residential areas, which will encompass 40% of activity, while inpatient facilities will be about 38% and nursing homes will come in at about 22% of the activity in that sector for next year.
The transportation sector will see 110% growth in 2023. Most of that can be attributed to the multi-billion-dollar improvements at John F. Kennedy International Airport in Queens, N.Y., but also includes runway and terminal projects.
Branch said he doesn't expect election results to impact Infrastructure Investment and Jobs Act projects much. There may be a slight delay in funding approval, or a slight reduction in funding, but overall, he expects those projects to move forward. 
Looking Ahead
This week, Dodge Data & Analytics also published its Dodge Momentum Index (DMI) for October. Some of its highlights include:
DMI improved 9.6% continuing a steady increase
On a year-over-year basis, the DMI is up 28%. The commercial component was up 29% and institutional planning was 25% higher
A total of 15 projects with a value of $100 million or more entered planning in October        
Other analysts have recently published their upcoming outlooks, as well. 
For example, the National Association of Home Builders issued a report on Nov. 17 that says multi-family developer confidence declined significantly in the third quarter of 2022. According to Eric Lynch, "Even though the number of multifamily units under construction is at its highest level since December of 1973 and multifamily construction spending continues to increase, developers are starting to see the signs of a slowdown as evident by this quarter's results. They are citing the high cost of materials and land along with weakening financing conditions given the recent monetary policy of the Federal Reserve as the main reasons for this decline in confidence, impacting affordable housing projects the most. Based on these factors, NAHB is now projecting a significant decline in multifamily starts in 2023."
Meanwhile, ACT Research reported on Nov. 17 that commercial vehicle market conditions continue to improve, despite interest rate hikes. 
"For now, business activity in the truck industry rolls on, seemingly unphased by higher interest rates," said Eric Crawford, ACT Research vice president. "That said, we expect this dynamic to shift in 1H'23, as the Fed continues its aggressive push to subdue inflation." He continued, "Cracks in the economy are becoming more evident: The impact of higher rates has begun to slow activity in the housing sector, and large layoffs have started in the tech sector."
However, the Equipment Leasing & Finance Foundation released its November 2022 Monthly Confidence Index on the same day. The index reports a qualitative assessment of both the prevailing business conditions and expectations for the future as reported by key executives from the $1 trillion equipment finance sector. Overall, confidence in the equipment finance market is 43.7, a decrease from the October index of 45. 
"There continues to be uncertainty in the markets as a result of inflationary pressures, rising rates, and the unknown impact of mid-term elections," said Aylin Cankardes, president of Rockwell Financial Group. "Due to ongoing challenges from supply chain delays, we are seeing increased demand for used equipment. Overall, our customers have been very resilient and underlying growth has been robust so we anticipate a strong finish to 2022, particularly in the energy transition and sustainability finance sector." 
The report is based on executive surveys about their businesses. Here are some highlights:
When asked to assess their business conditions over the next four months, none of the executives responding said they believe business conditions will improve over the next four months, unchanged from October. 46.4% believe business conditions will remain the same over the next four months, down from 62.5% the previous month. 53.6% believe business conditions will worsen, an increase from 37.5% in October.
10.7% of the survey respondents believe demand for leases and loans to fund capital expenditures (capex) will increase over the next four months, an increase from 8.3% in October. 67.9% believe demand will "remain the same" during the same four-month time period, an increase from 66.7% the previous month. 21.4% believe demand will decline, down from 25% in October.
14.3% of the respondents expect more access to capital to fund equipment acquisitions over the next four months, up from 4.2% in October. 64.3% of executives indicate they expect the "same" access to capital to fund business, a decrease from 87.5% last month. 21.4% expect "less" access to capital, up from 8.3% the previous month.
When asked, 32.1% of the executives report they expect to hire more employees over the next four months, up from 29.2% in October. 64.3% expect no change in headcount over the next four months, a decrease from 66.7% last month. 3.6% expect to hire fewer employees, down from 4.2% in October.
3.6% of the leadership evaluate the current U.S. economy as "excellent," a decrease from 8.3% the previous month. 75% of the leadership evaluate the current U.S. economy as "fair," up from 66.7% in October. 21.4% evaluate it as "poor," a decrease from 25% last month.
None of the survey respondents believe that U.S. economic conditions will get "better" over the next six months, unchanged from October. 28.6% indicate they believe the U.S. economy will "stay the same" over the next six months, a decrease from 41.7% last month. 71.4% believe economic conditions in the U.S. will worsen over the next six months, an increase from 58.3% the previous month.
In November 28.6% of respondents indicate they believe their company will increase spending on business development activities during the next six months, up from 25% the previous month. 64.3% believe there will be "no change" in business development spending, down from 70.8% in October. 7.1% believe there will be a decrease in spending, an increase from 4.2% last month. 
link